Article within the current edition of the KIT magazine lookKIT on information at the Karlsruhe Institute of Technology, Edition 3/2017. The text was written in German, an excerpt is available in English at the end of the text.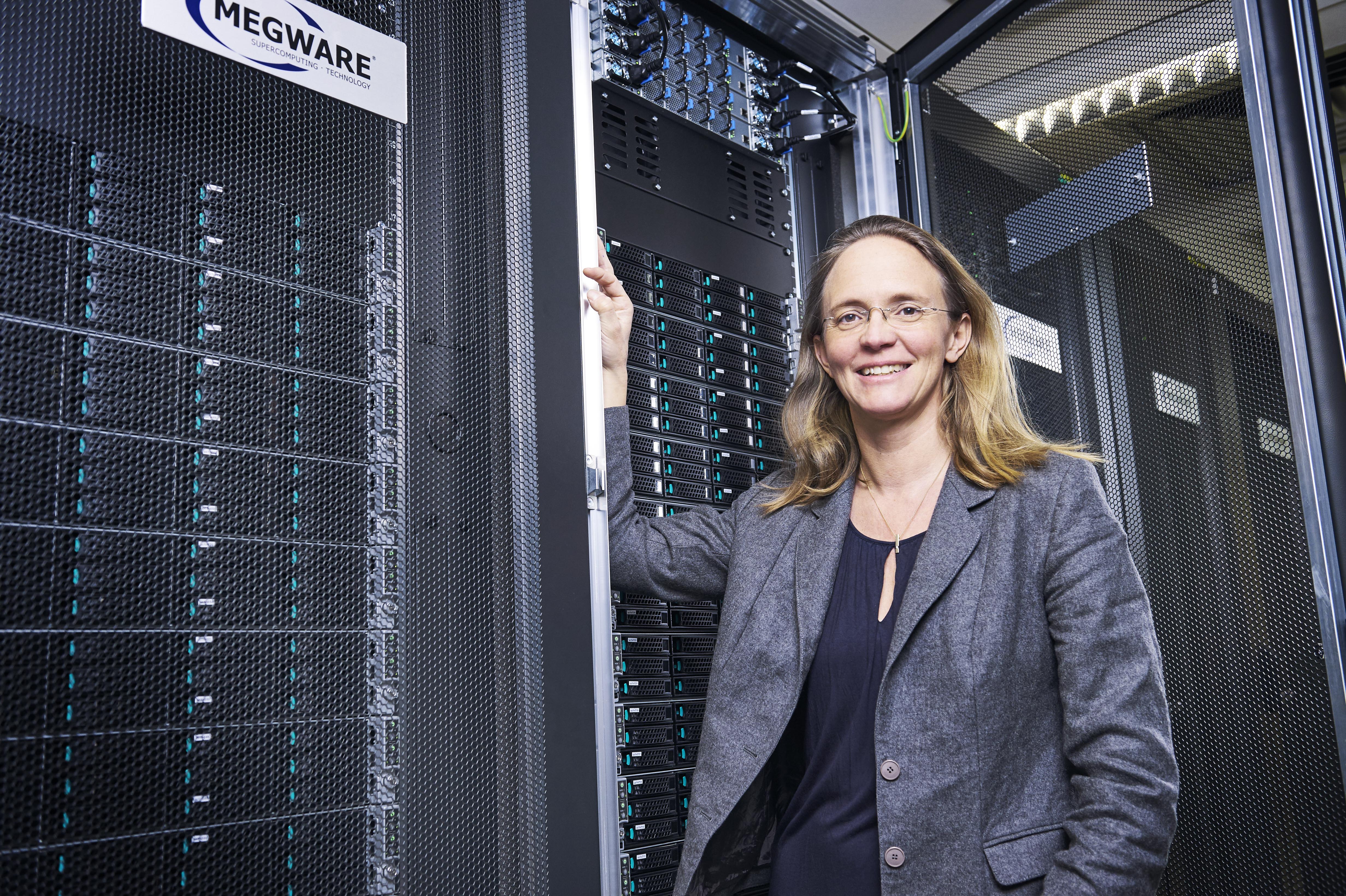 Wenn die Professorin Britta Nestler über den Gottfried Wilhelm Leibniz-Preis spricht – der mit 2,5 Millionen Euro höchst dotierte deutsche Wissenschaftspreis − dann sagt sie: "Das ist einfach eine schöne Bestätigung für unsere Arbeit." Unsere? "Ja, ich sehe den Preis als Auszeichnung für meine gesamte Gruppe und die Themen an denen wir arbeiten." Ihre persönliche Leistung stellt die Materialwissenschaftlerin nicht gerne in den Vordergrund. Dabei gibt es in der deutschen Wissenschaftslandschaft wohl wenige, die auf eine Karriere wie die ihre blicken können.
War sie schon immer eine Überfliegerin, eine, die Klassen überspringt? "Nein, ich war eine ganz normale, eher chaotische Schülerin", sagt sie. Geboren und aufgewachsen in Aachen geht sie während der Oberstufe für ein Jahr nach Neuseeland. "Als ich wiederkam, wollte die Direktorin, dass ich die Klasse wiederhole." Doch Britta Nestler will möglichst schnell ihr Abitur in der Tasche haben. "Da habe ich mich zum ersten Mal richtig reingehängt, den Stoff eines Jahres im Schnelldurchlauf nachgelernt." Danach studiert sie an der RWTH Aachen erst Physik, dann etwas zeitversetzt Mathematik, besucht aber auch Vorlesungen in Informatik und macht pädagogische Scheine. "Ein guter Ausgleich. Meine sehr wenigen Kommilitoninnen in Physik und Mathe kamen übrigens ausnahmslos von reinen Mädchenschulen wie ich." 1999 legt sie die Staatsprüfung für Lehrämter mit der Note sehr gut ab, nur ein Jahr später folgt die Promotion.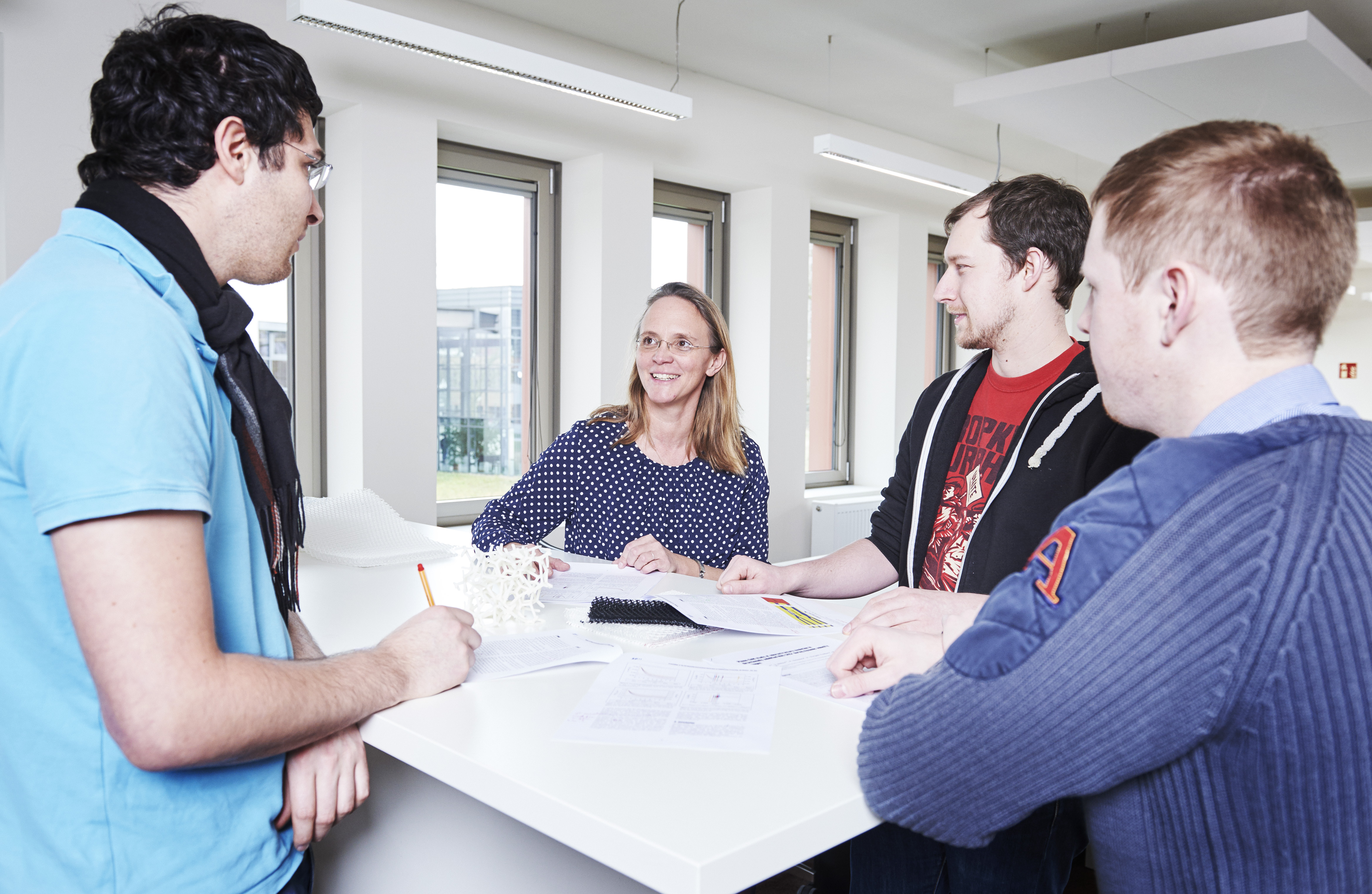 In atemberaubendem Tempo geht es für sie weiter, mit nur 29 Jahren wird Britta Nestler 2001 Deutschlands jüngste Professorin an der Hochschule Karlsruhe, Fakultät für Informatik. 2008 ist sie Gründungsdirektorin des Forschungsinstituts Institute of Materials and Processes der Hochschule Karlsruhe, seit 2008 gründet und leitet sie ein Steinbeis-Transferzentrum Werkstoffsimulation und Prozessoptimierung. 2010 wird sie W3-Professorin für Mikrostruktursimulation in der Werkstofftechnik am KIT und hat die kollegiale Leitung des Instituts für Angewandte Materialien. Sie bleibt parallel an der Hochschule Karlsruhe, führt eine Doppelprofessur.
Diverse Preise sammelt sie wie nebenbei auf diesem Weg ein: 2001 den Friedrich-Wilhelm-Preis der RWTH Aachen, 2002 den Richard-von-Mises-Preis der Gesellschaft für Angewandte Mathematik und Mechanik, 2004 den doIT Software-Award der Stiftung Baden-Württemberg, 2005 den Materials Science & Technology Prize der Federation of European Materials Societies, 2007 den Landesforschungspreis des Ministeriums für Wissenschaft, Forschung und Kunst Baden-Württemberg und nun also den Gottfried Wilhelm Leibniz-Preis 2017 der Deutschen Forschungsgemeinschaft.
Schon früh findet sie thematisch ihre wissenschaftliche Heimat. Bis zu ihrer ersten Professur ist sie wissenschaftliche Mitarbeiterin am Gießerei-Institut an der RWTH Aachen, heute noch stehen Werkstücke aus dieser Zeit in der Vitrine in ihrem Büro. Sie betreibt Grundlagenforschung, doch verliert auch die Anwendung nie aus den Augen. Aktuell schließt sich ein Kreis, sie nutzt thermo-mechanische Simulationen auf der Meso- und Makroskala, um die mikrostrukturellen Eigenschaften des Grundwerkstoffs Gusseisen in Bremsscheiben zu verbessern und damit deren Lebensdauer zu erhöhen.
Die Einsätze der deutschlandweit größten Höchstleistungsrechner in München und Stuttgart haben ihr neue Möglichkeiten eröffnet. "Die Implementierung der Materialmodelle durch parallele, effiziente und skalierbare Algorithmen hat in den vergangenen fünf Jahren zu wegweisenden Ergebnissen bei Simulationen von 3-D-Mikrostrukturen mit der Phasenfeldmethode geführt", erklärt sie. Ihre Begeisterung für Materialien und deren Mikrostruktur beschränkt sich längst nicht auf Metalle. Durch Anwendung der materialwissenschaftlichen Modellierungsmethoden auf geologische Gesteinsklüfte konnten Britta Nestler und ihr Team erstmalig ein Verständnis über die Mechanismen der 3-D-Kornstrukturausbildung und Rissversiegelung in Gesteinen gewinnen. In diesem Bereich liefern Mikrostruktursimulationen Einblicke in Zeitabläufe der erdgeschichtlichen Vergangenheit. Auch zel luläre Strukturen wie Schäume und poröse Membranen haben in einer Vielzahl von Anwendungen zunehmend an Bedeutung gewonnen. Mit den Fortschritten in der Grenzflächenmodellierung konnten die Materialwissenschaftlerinnen und Materialwissenschaftler um Nestler die Porenstrukturen von mit Phasenwechselmaterialien gefüllten Metallschäumen am Computer designen, die optimierte Wärmetransporteigenschaften besitzen und in Wärmespeichern zum Einsatz kommen. Von vielen umgesetzten, laufenden und angedachten Projekten kann Britta Nestler begeistert berichten, umso mehr freut es sie, dass der Leibniz-Preis ihr nun ermöglicht, weiter neue Wege zu gehen und interessante Ideen zu verfolgen.
Bleibt die Frage, wie sie das alles schafft, denn neben ihrer kometenhaften wissenschaftlichen Karriere hat Britta Nestler in den vergangenen neun Jahren auch vier Kinder auf die Welt gebracht, leitet ehrenamtlich eine Eltern-Kind-Turngruppe im Sportverein, legt Wert auf ein reges Familienleben – und wirkt dabei überaus entspannt. "Ich habe eine Mutter, die mir hilft, teile mir meine Zeit ein, arbeite mobil wo immer es geht und schiebe nichts auf die lange Bank." Doch sie gibt zu, "wenn sich ein Zeitfenster auftut, dann kann ich auch bis zur absoluten Leidensgrenze und darüber hinaus arbeiten." Mit der Energie einer Außergewöhnlichen, deren Einsatz nun mit dem Leibniz-Preis belohnt wurde.
Kontakt: britta nestlerZce7∂kit edu
Excerpt in English
Britta Nestler is Awarded 2017 Gottfried Wilhelm Leibniz Prize
Translation: Maike Schröder
With the highest endowed German science prize of EUR 2.5 million, the 2017 Gottfried Wilhelm Leibniz Prize, the German Research Foundation (DFG) honors mathematician and physicist Professor Britta Nestler for her research into computer-aided materials modeling.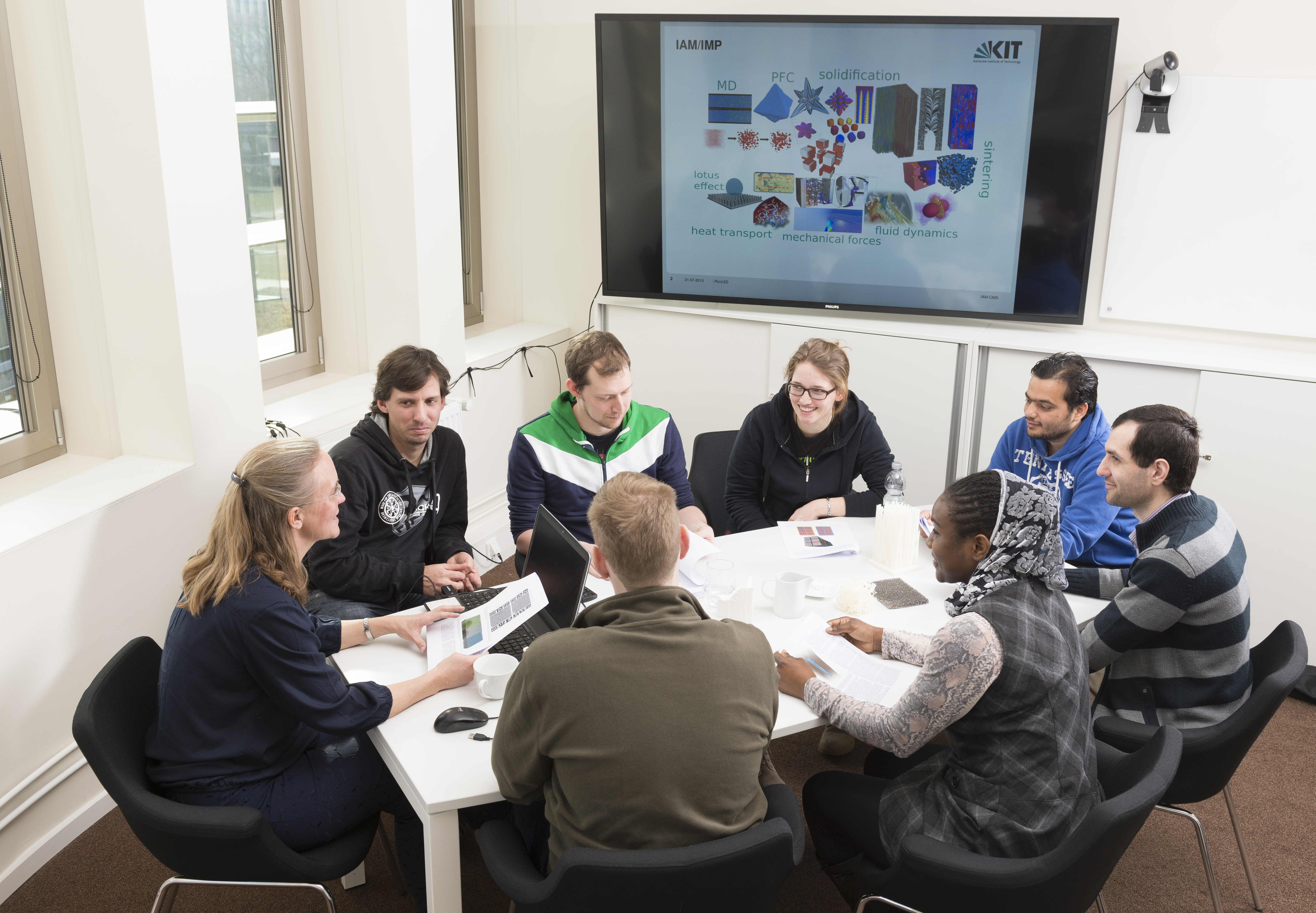 Since 2010, Britta Nestler has been conducting research and teaching at Karlsruhe Institute of Technology, where she is Member of the Board of Directors of the Institute for Applied Materials. In addition, she was appointed Director of the Computational Materials Science and Engineering Department of the Institute of Materials and Processes of Karlsruhe University of Applied Sciences (HsKA) in 2008. In the same year, she established the Steinbeis Transfer Center "Materials Simulation and Process Optimzation," which is also headed by her. Since 2001, Nestler has been Professor of HsKA. Before, she spent several research periods abroad and also worked in industry. Britta Nestler has four children.
In 2000, Britta Nestler was conferred her doctorate by RWTH Aachen University, where she previously received her diplomas in physics and mathematics. As a third subject, she studied pedagogics. Among the prizes she has received so far is the State Award for Applied Research (2007) of the Baden-Württemberg Ministry of Science, Research, and the Arts. Together with the Department of Informatics of Karlsruhe University of Applied Sciences, she received the State Teaching Award (2009). In addition, Nestler was granted the Research Prize of Karlsruhe University of Applied Sciences in 2014, the Materials Science and Technology Prize of the Federation of European Materials Societies (FEMS) in 2002, and the Richard von Mises Prize of the Society of Applied Mathematics and Mechanics (GAMM) in 2002. Since 2010, Nestler has succeeded in acquiring more than EUR 5.5 million in funding for research and education.
Contact: britta nestlerYwc3∂kit edu