Article within the current edition of the KIT magazine lookKIT on information at the Karlsruhe Institute of Technology, Edition 4/2016. The text was written in German, an excerpt is available in English at the end of the text.
Die Energiewende soll Deutschland in eine der umweltschonendsten und energiesparsamsten Volkswirtschaften umgestalten – bei wettbewerbsfähigen Energiepreisen und hohem Wohlstandsniveau. Ziel der Initiative "Energie System 2050" der Helmholtz-Gemeinschaft ist es, bis 2019 greifbare und verwertbare systemtechnische Erkenntnisse und technologische Lösungen zu erarbeiten, die Politik und Wirtschaft aufgreifen können.
Die Leitung der Initiative "Energie System 2050" liegt bei Prof. Dr.-Ing. Holger Hanselka, Präsident des KIT und Koordinator des Forschungsbereichs Energie der Helmholtz- Gemeinschaft, die Organisation bei Professor Joachim Knebel, Leiter des Bereichs III für Maschinenbau und Elektrotechnik am KIT und Dr. Wolfgang Breh, Geschäftsführer des KIT- Zentrums Energie. Die Initiative untersucht die Integration von wesentlichen.
Technologieelementen in das Energiesystem und erarbeitet Lösungen, um die teilweise stark fluktuierenden erneuerbaren Energien erfolgreich in die deutsche und europäische Energieversorgung einzubinden.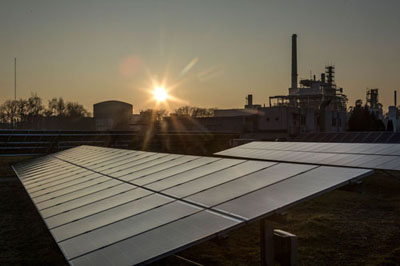 Mit fünf ausgewählten Forschungsthemen adressiert sie grundlegende Herausforderungen der Energiewende: Speicher und Netze, Biogene Energieträger, Energie- und Rohstoffpfade mit Wasserstoff, Lebenszyklusorientierte Nachhaltigkeitsanalyse auf Systemebene und Toolbox mit Datenbanken.
Für das Arbeitsprogramm ist das Management Board des Forschungsbereichs Energie der Helmholtz-Gemeinschaft verantwortlich. Die Bearbeitung der einzelnen. Forschungsthemen obliegt je einem Team von Experten, die zentren- und programmübergreifend arbeiten. Darüber hinaus kooperiert die Initiative zur Entwicklung einsatzfähiger Prototypen und Demonstratoren mit der Industrie und den Ministerien. Der übergreifende Ansatz macht "Energie System 2050" zu einem kompetenten Partner in der Politikberatung.
"Die Grundidee bei der Helmholtz-Gemeinschaft ist die, dass sich unsere Forschung an den Bedürfnissen der Gesellschaft orientiert", erklärt der Koordinator der Initiative Professor Dr.-Ing. Holger Hanselka, "alles was wir tun, läuft durch bestimmte Gremien, in denen neben Vertretern aus der Wissenschaft Vertreter aus Gesellschaft und Politik sitzen. Hier wurde auf der Grundlage der unabhängigen wissenschaftlichen Begutachtung der Forschungsprogramme die Initiative 'Energie System 2050' auf den Weg gebracht, und die politischen Wünsche und Anforderungen aus der Gesellschaft an die Wissenschaft sind entsprechend integriert worden."
In ihrem systemischen Ansatz stützt sich die Initiative "Energie System 2050" auf die laufenden Forschungsprogramme des Forschungsbereichs Energie der Helmholtz-Gemeinschaft: Energieeffizienz, Materialien und Ressourcen (EMR), Erneuerbare Energien (EE), Speicher und vernetzte Infrastrukturen (SCI), Zukünftige Informationstechnologie (FIT), Technik, Innovation und Gesellschaft (TIG) sowie Kernfusion (FUSION), das eine langfristige Option einer neuen grundlastfähigen Energiequelle betrachtet, und Nukleare Entsorgung, Sicherheit und Strahlenforschung (NUSAFE), das vor allem in Bezug auf die Entwicklungen in Europa relevant ist. Darü- ber hinaus bezieht sie weitere Helmholtz-Aktivitäten ein. Zudem wird die Initiative von einer unabhängigen Expertenkommission begleitet. Die Wissenschaftlerinnen und Wissenschaftler werden außerdem durch eine Beratergruppe mit energiewirtschaftlicher Expertise unterstützt, wodurch die ökonomische Betrachtungsweise sichergestellt wird. Neben dem KIT sind folgende Helmholtz-Zentren an der Initiative "Energie System 2050" beteiligt: Deutsches Zentrum für Luft- und Raumfahrt (DLR), Forschungszentrum Jülich (FZJ), Helmholtz-Zentrum Potsdam (GFZ), Helmholtz-Zentrum Berlin (HZB), HelmholtzZentrum Dresden-Rossendorf (HZDR), MaxPlanck-Institut für Plasmaphysik (IPP – assoziiert) und Helmholtz-Zentrum für Umweltforschung (UFZ)
Kontakt: holger.hanselka@kit.edu
Excerpt in English
The Joint Initiative of the Research Field Energy of the Helmholtz Association, "Energy System 2050"
Translation: Ralf Friese
The energiewende is to turn Germany into one of the national economies with the lowest levels of both environmental pollution and energy consumption – while maintaining competitive energy prices and a high level of prosperity. "Energy System 2050", a joint initiative of the Helmholtz Association, is to develop usable systemic findings and technical solutions to reach this goal that can be taken up by politicians and industry.
The initiative studies how major technology elements can be integrated into the energy system, working out solutions to incorporate often strongly fluctuating renewable energies successfully into the German and European energy supply system. Five selected research topics address fundamental challenges posed by the energiewende: Storage and grids; bioenergy; hydrogen-based energy and resource pathways; lifecycle-oriented sustainability analysis at system level; toolbox and data models.
The program of work is the responsibility of the Management Board of the Research Field Energy of the Helmholtz Association. Each research topic is handled by a team of experts working across centers and programs. In addition, the Initiative cooperates with industry and the ministries to develop usable prototypes and demonstrators. The overarching approach makes "Energy System 2050" a competent partner in policy advice.
Contact: holger.hanselka@kit.edu