The original press release was published on the Karlsruhe Institute of Technology (KIT)'s website on 09 February 2018 here. The text was written in German, text is also available in English at the end of the text.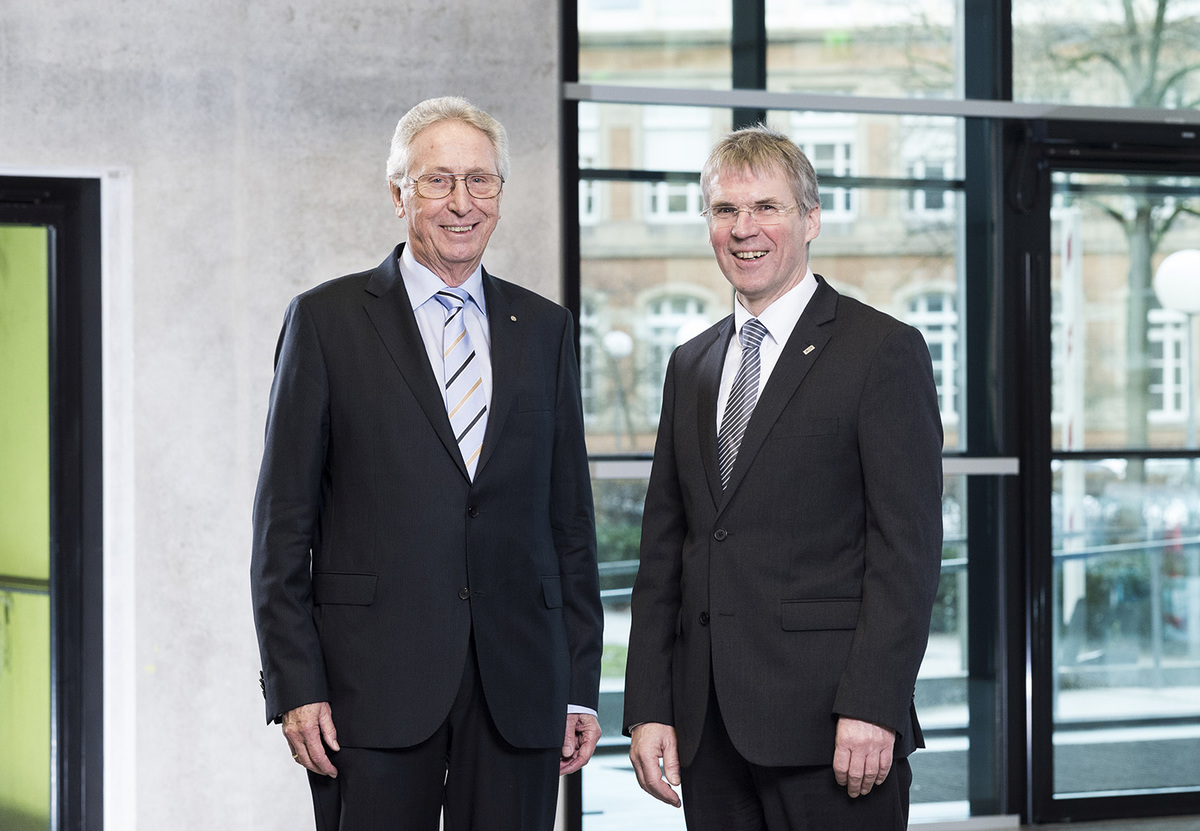 SAP-Mitbegründer Hans-Werner Hector und Professor Holger Hanselka, Präsident des KIT, trafen sich anlässlich der Unterzeichnung der dritten Fördervereinbarung der Hector-Stiftung II (Foto: Markus Breig/KIT)
Der SAP-Mitbegründer Hans-Werner Hector und seine Frau Josefine unterstützen weitere drei Jahre lang das KIT. So wird die Hector-Stiftung II das KIT weiterhin dabei unterstützen, herausragende Wissenschaftlerinnen und Wissenschaftler der MINT-Fächer mit einer adäquaten Ausstattung an das KIT berufen zu können.
Hans-Werner Hector ist ein großer Förderer des KIT. Beispielsweise unterstützt er seit 2005 die HECTOR School of Engineering & Management am International Department des KIT. Die Teilnehmer erwerben am KIT aktuelle Expertise im Ingenieur- und Managementbereich, die sie direkt in ihren Unternehmen anwenden können. Auch den Neubau des Kollegiengebäudes Mathematik am KIT hat die Hector-Stiftung mit einer Spende von rund 9 Millionen Euro unterstützt.
kes, 09.02.2018
Excerpt in English
Signing of the Third Funding Agreement of the Hector Foundation II
Translation: Maryrose Kelkis
SAP co-founder Hans-Werner Hector and his wife Josefine will support KIT for another three years. Thus, the Hector Foundation II will continue to support KIT in being able to appoint outstanding scientists of MINT subjects with adequate equipment to KIT. Hans-Werner Hector is a big supporter of KIT. For example, since 2005 he has been supporting the HECTOR School of Engineering & Management at the International Department of KIT. The participants acquire current expertise in engineering and management at KIT, which they can apply directly to within their companies. The Hector Foundation also supported the construction of the new Kollegiengebäude building at KIT with a donation of around 9 million euros.