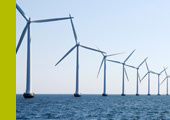 The course provides focus on two aspects. Firstly the most common renewable energy technologies such as wind energy, solar power, hydro power as well as biomass will be introduced. The introduction includes the technical design as well as the current market and economic situation. For example in the area of wind turbine technology, aspects like aerodynamics and wind turbine design options are presented as well as aspects of wind farm design. Secondly the course will discuss the integration of (fluctuating) renewables into power systems, which includes the discussion of grid connection aspects (grid codes) as well as power system balancing. Special focus will be placed on the integration of on- and offshore wind power into power systems.
A field trip to the wind power station in Karlsruhe will round up this certificate course.
Course Objectives
The course objective is to provide knowledge about a wide area of renewable technologies and understand its role in the overall grid operation. The participants will learn to understand the technical design as well as the current economic conditions, including different regulators aspects, of renewables and its operation influence on power system operation. The course basically aims at providing the relevant knowledge for working in a future renewable energy based electricity supply industry.
Learning Targets/ Skills
The participants
are able to understand the design of different renewable generation technologies
gain knowledge about economic and regulatory aspects of renewable generation
are able to evaluate various solutions for the design of renewable production systems
gain competence to understand grid integration aspects of renewable generation
are able to apply knowledge in certain case studies
Pre-Requisites
We expect students to have a masters degree in science or technology, including industrial engineering; basic knowledge of business administration is helpful, but not necessary.
Next Course Date
29. - 31. May 2017
For individual scheduling of this certificate course especially for your company please contact Mrs. Martina Waldner.