Costs & Fees for the M.Sc. Programs at HECTOR School
For a regular master with 4 semesters, the tuition fee is 7,500 Euro (seven thousand five hundred) each semester. Differing length of studies does not increase the total tuition fee. Please note that this fee is tax-deductible.
The tuition fee for a Master of Science Program at the HECTOR School includes:
Tuition for all HECTOR School modules and supervision of the master's thesis
Course materials in a digital version
WLAN access to the KIT network and computer laboratories
Free usage of the KIT library
Free drinks & snack buffet during the lectures
Participation in social events during the HECTOR School modules
The following costs are not included:
For further information about fees and prices please contact us.
COVID-19 Update
Students that have been hit financially by the current COVID-19 crisis may also apply to an interest-free loan ("Studienkredit") by the KfW (Kreditanstalt für Wiederaufbau). The loan of up to 650€ per month is available for national and international students, the duration of support is determined individually.
Important for International Participants
The application for international students is only possible within the period May 16th, 2020 – February 15th, 2021! The funding period begins at the earliest on July 1st, 2020 and at the latest on March 1st, 2021. If funding has not started in March 2021 at the latest, no further funding is possible. For this purpose the application must be received in full by KfW on February 15th, 2021 at the latest.
Further information can be found in German and partly in English.
The toll-free service number (0800-539-9003, Monday – Friday: 8 am – 6 pm) will help you if necessary in English. First there is a tape announcement, after which you have to enter "eins" (one) by pressing the telephone-button "1" or by language, after that you will be connected to an employee.
Exemplary Payment Plan
To better organize your finanical payments of the fees applicable for the participation in one of the HECTOR School master programs, we generated the exemplary payment plan above for you. In case of further questions, please don't hesitate to contact us.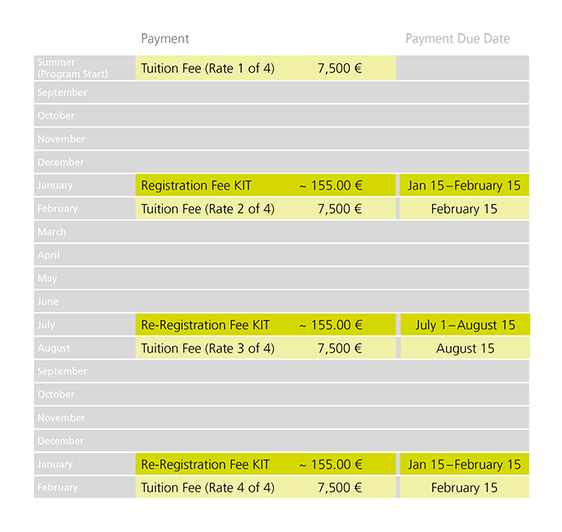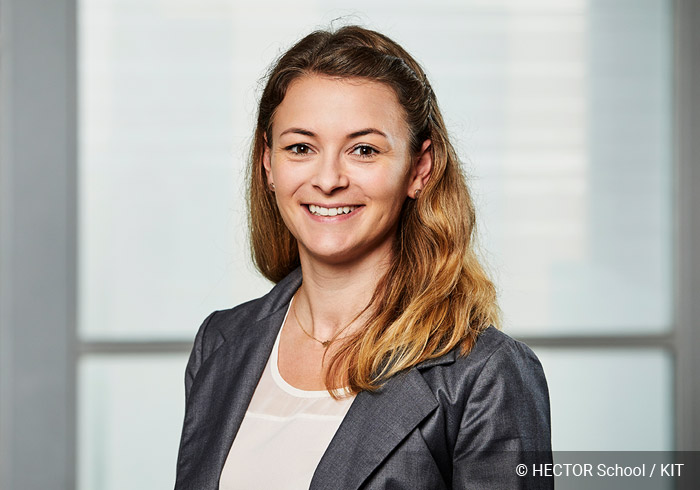 Contact
Admission and academic requirements
Ms. Jelena Muench, admission@hectorschool.com