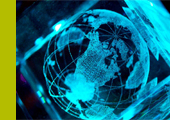 The primary objective of the course is to enable participants to play a vital role at the intersection of technical and business issues, being able to bridge the gap between company's customers and end users, Line-of-Business experts and IT experts.
In doing so, they shall understand that digital service systems transcend mere technological artifacts but constitute complex socio-technical phenomena.
Learning Targets/ Skills
The participants
understand key concepts and implications of digital transformation

explore opportunities of information technologies to enable holistic digital business transformation

recognize key characteristics of information technologies used in globally operating enterprises

learn core stages of digital transformation processes

master important concepts to successfully execute digital transformations
Course Topics & Instructor
Introduction to digital transformations

Digital service systems

Nature, role, and potentials of digital technologies
KIT expertise for you!

Prof. Dr. Alexander Maedche

Prof. Dr. Alexander Mädche joined KIT in November 2015.

Prof. Dr. Alexander Maedche was appointed full professor at the KIT in November 2015 at the Department for Economics & Management. At the same time he received the call as director at the Karlsruhe Service Research Institute (KSRI). He leads the research group Information Systems & Service Design at KSRI and IISM. In 2016 he was appointed as dean of studies Information Engineering & Mgmt.

At HECTOR School he combines scientific expertise with his experience from being vice president Product Management User Interaction at the SAP AG and from the Bosch Group as department manager Business Intelligence in Corporate Sector Information Technologies.
Registration & Organizational Details
The course is bookable for a group of minimum 5 people and a maximum of 15 people. Costs are 2.495€ per participant. For individual scheduling of this 3-day certificate course especially for your company please contact our program consultants. Please ask us for special company and alumni rates!
Interested in a notification on the next date, as soon as it is out? Register here.