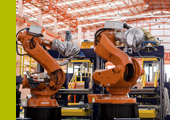 The trend towards industrial automation and Industry 4.0 will change production significantly in the future. Therefore it is imperative to understand basic principles of automation and Industry 4.0 to meet the challenges facing production in the future. The certificate course Smart Manufacturing & Automation with Industry 4.0 addresses on one hand the current state of the art in smart automation and on the other hand provides an outlook on new technologies, businesses and opportunities arising out of digitalization, use of smart devices and in conclusion in Industry 4.0. The concerted objective of the lecture is the basic knowledge for smart automation and Industry 4.0 within production.
Learning Targets/ Skills
The participants will
be able to analyze implemented automated manufacturing systems and describe their components;
be able to name automation tasks in manufacturing plants and name the components, which are necessary for the implementation of each automation task;
be able to design and select components for a given use case of the categories: Handling Technology, Industrial Robotics, Sensors, and Controls;
can compare different concepts for multi-machine systems and select a suitable one for a given use case.
Course Topics & Instructor
Introduction to Automated Production Systems
Sensors, Controls and Drive Technology
Handling Systems and Industrial Robots
Automated Quality Control
Manufacturing and Assembly Technology
Multi Machine Systems
Design and planning of automated production facilities
Use Cases: Industry 4.0 in Industry
KIT expertise for you!

Prof. Dr.-Ing. Jürgen Fleischer

Prof. Dr.-Ing. Jürgen Fleischer is member of the Management Board of the Institute of Production Science (wbk) at the KIT. He was appointed head of the wbk in 2003. From 2011 - 2014 he has been dean of the faculty for Mechanical Engineering. Since 2012 he is visiting professor at the Tongji University in Shanghai/ China.

At HECTOR School he combines scientific expertise with his broad industry experience with the Daimler Benz AG, Adranz, Bombardier Transporation and the Machine Tool Group MAG Industrial Automation Systems.

Further information on Professor Fleischer on the institutes website.
Registration & Organizational Details
Next course: 28th of October, 2019
The course is bookable for a group of minimum 5 people and a maximum of 15 people. Costs are 3.500€ per participant (incl. lecture materials, all transfers, lunch breaks & social events). For individual scheduling of this 5-day certificate course especially for your company please contact our program consultants. Please ask us for special company and alumni rates!