Industry partners profit from a strong network of one of the most renown technical universities worldwide: The Karlsruhe Institute of Technology (KIT). The Technology Business School forms an interface between cutting-edge research and the demand of industry regarding technology know-how and continuous education programs for their employees.
Benefits for our Industry Partners
HECTOR School, the interface between your company and the research network of KIT
Within the Master Programs: Master Thesis of participants on a consulting basis
Consulting regarding HR development strategies for your company
Recuiting, Retention, Re-Qualification with the 3-R Program
Our 3-R (Recuiting, Retention, Re-Qualification) program enables our industry partners to
Diversify the employees
Close the gap of missing qualifications
Foster the most valuable employees
Shape departments and projects with the right people
Keep the valued experience in the company
Transfer knowledge from a top universitiy and create innovation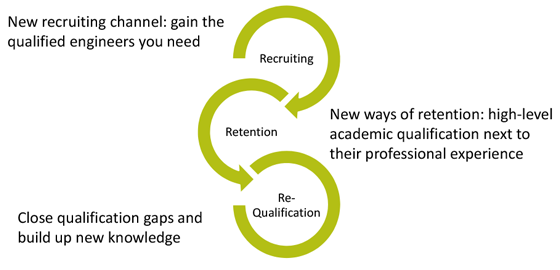 Are you interested in improving your national and international visibility?
Contact us now, to learn more about the 3-R program: admissions∂hectorschool.com