Digital Leaders are confronted with changes in the three areas technology, management methods & organizational models and leadership.
Participants of the Leadership 4.0 program will gain
hands on experience in a real world Industry 4.0 production line and
enlarged knowledge about Industry 4.0 technologies and appropriate leadership stiles.
Technology

Experience a production line in a real world industry 4.0 environment in one of the most innovative learning factory wordwide.
Gain knowledge about industry 4.0 technology and deal with the associated opportunities and risks.
Management & Organization

Learn about different approaches, pros and cons, limitations and requirements.
Understand the importance of visions, rules an values in organizations.
Leadership

Experience the effects of different leadership stiles in an Industry 4.0 environment and how you can master such a challenging environment.
Learn the essential features of leadership of business models and production processes.
Program Overview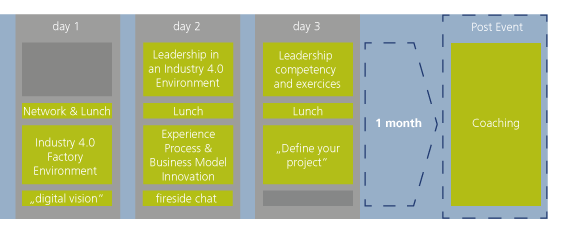 More Information and Registration
Format
Dates and Registration

2,5 days, in-class format
2.990€ incl. VAT
(reduced price by -1.990€ as a sponsorship for companies with less than 500 emplyees)
max. 24 participants

More informationen in the Leadership 4.0 Flyer (PDF)

20.06. - 22.06.18
28.11. - 30.11.18

Leave a message, if you want to be informed about registration dates and further changes in the program. Yes, I am interested in further information.
Initiators of the Leadership 4.0 Program