Article within the current edition of the KIT magazine lookKIT on information at the Karlsruhe Institute of Technology, Edition 1/2017. The text was written in German, an excerpt is available in English at the end of the text.
Regale, die sich von selber auffüllen. Maschinen, die sich in Sekundenschnelle auf individuelle Bestellwünsche einstellen: Das digitale Schlaraffenland heißt für viele Unternehmen Industrie 4.0. Doch der Weg dorthin scheint kompliziert und lang. Wo ansetzen? Wie umsetzen? Erste Antworten auf diese Fragen gibt der Leitfaden Industrie 4.0, der vom VDMA (Verband Deutscher Maschinen- und Anlagenbau e. V), dem wbk Institut für Produktionstechnik am KIT und dem Fachgebiet Datenverarbeitung in der Konstruktion der TU Darmstadt entwickelt wurde.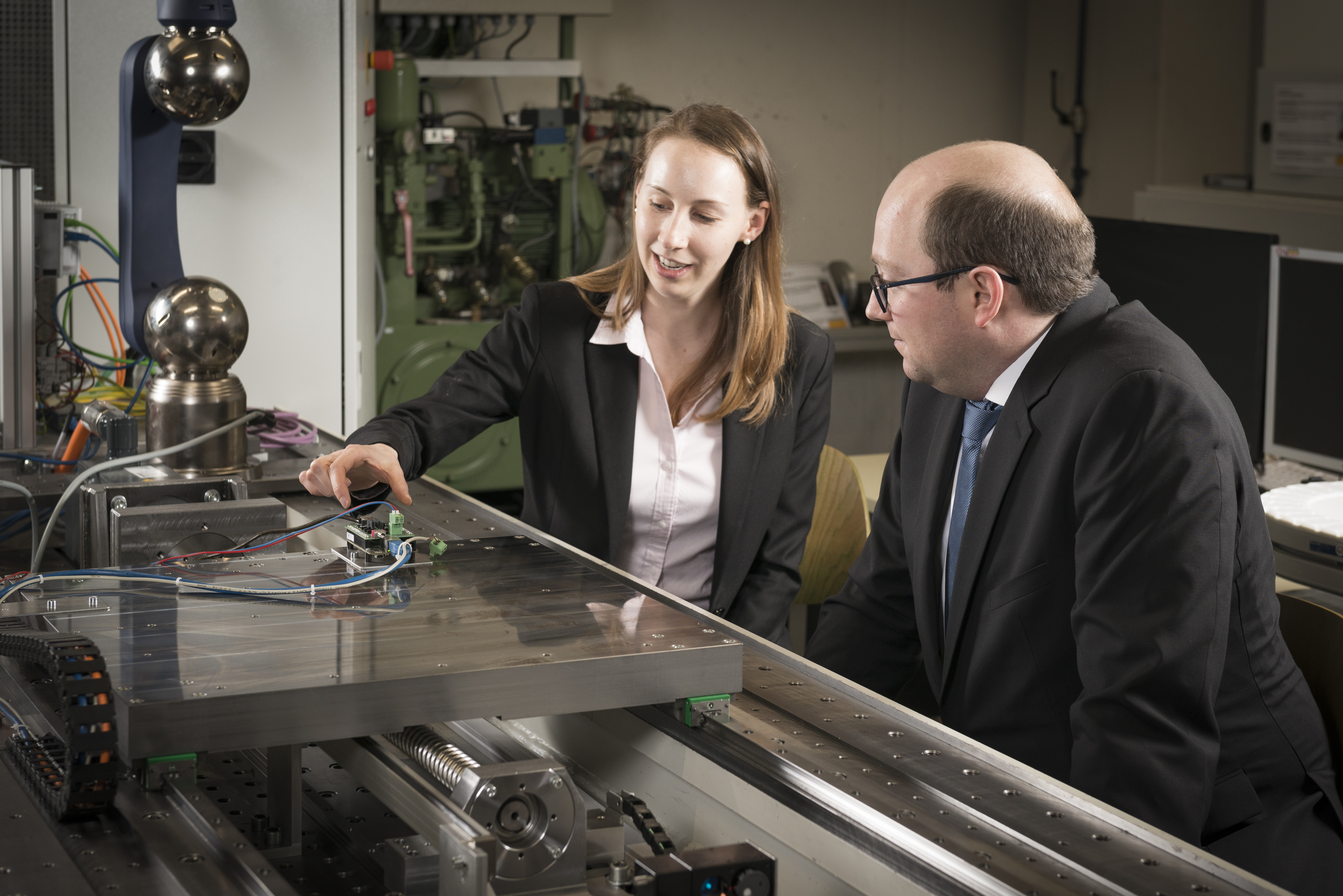 "Wir wollen den Unternehmen beim Einstieg in das Thema helfen und konkret unterstützen", sagt Oberingenieurin Dr. Nicole Stricker, die mit ihrem Kollegen Dr. Jörg Bauer viele Industrie-4.0- Themen am wbk Institut für Produktionstechnik begleitet. "Denn uns ist klar, dass sich viele Verantwortliche gerade in kleinen und mittleren Betrieben mit dem Gedanken tragen, Industrie 4.0 in irgendeiner Form einzuführen, doch die Hürden sind gewaltig." Hier setzt der Leitfaden an und versucht zunächst potenzielle und vielversprechende konkrete Anwendungen im Unternehmen zu identifizieren. "Wir erarbeiten gemeinsam, was sich bei der Produktion verändern könnte und welche Änderungen der Produkte gewünscht sind. Wobei der Leitfaden nicht eine Liste von möglichen Lösungen darstellt, sondern er gibt im Zusammenspiel mit einem Workshop die Möglichkeit, mit Beteiligten des Unternehmens anhand ihrer aktuellen Produktionssituation Ideen zu generieren." Dabei seien die internen Expertinnen und Experten überaus wichtig, betont Nicole Stricker, denn nur sie könnten Machbarkeit und Umsetzung der Veränderungen einschätzen.
Wichtiges Tool in diesem Prozess sei ein Werkzeugkasten, den der Leitfaden enthält, "um überhaupt das Thema Industrie 4.0 als große, riesige Wolke in handhabbare Stücke zu packen", so Jörg Bauer. "So kommen wir auf eine Ebene und schauen ausgehend von den eigenen Kompetenzen, wo kann ich mich hin entwickeln, wo macht es Sinn und wo sind wirtschaftlich tragfähige Use Cases?" Im Werkzeugkasten wird in Produkte und Produktion unterschieden und es kommt zu einer schrittweisen Analyse dieser beiden Bereiche. Bei dem Bereich Produkt geht es beispielsweise um die mögliche Integration von Sensoren, Funktionalitäten zu Datenspeicherung und Informationsaustausch, produktbezogene IT-Services oder neue Geschäftsmodelle. Im Bereich Produktion werden die Datenverarbeitung, die unternehmensweite Vernetzung mit der Produktion, die Effizienz bei kleinen Losgrößen oder die Mensch-MaschineSchnittstellen beleuchtet.
Kann sich jedes Unternehmen an das Team vom wbk wenden? "Wir freuen uns immer, wenn Unternehmen zu uns kommen, weil wir viele Möglichkeiten haben, sie auch in Forschungsprojekte zu integrieren. Das ist teilweise auch komplett kostenfrei", sagt Jörg Bauer. "Es gibt auch Projektarten, bei denen wir entscheiden, dass es einen begleitenden Ausschuss gibt, der zu Projekttreffen kommt, mitdiskutiert und sieht, was sich entwickelt, ohne aktiv dabei zu sein."
Besonderes Augenmerk läge auf konkreten Use Cases, wie sie beispielsweise im Projekt Intro 4.0 betrachtet werden. Ausgehend von diesen Use Cases kann dann wieder abstrahiert und Wissen übertragen werden. Bei einigen Anwendungen geht es vor allem auch um die Nutzung von Daten, die schon in den Betrieben existieren und ständig generiert werden. "Im Rahmen von Industrie 4.0 kommt man relativ schnell auf das Schlagwort Big Data zu sprechen", erzählt Nicole Stricker. " Wir starten dieses Jahr mit einem Projekt, das nennt sich ProData, in dem wir versuchen werden herauszufinden, wie viel sich aus den Daten wirklich machen lässt. Und wie kann ich aus diesen Daten wieder einen Gewinn erzielen?" Diese Punkte seien oft der entscheidende Impuls für die Entwicklung hin zu Industrie 4.0. "Wir finden so Stellen, an denen könnte es Sinn machen, einen Regelkreis mit lernenden Systemen aufzubauen. Oder die Erkenntnis, als Nutzer oder Anbieter von Maschinen zusätzliche Dienstleistungen für meine Maschine zu generieren. Dieser Prozess ist extrem wichtig. Man kann Industrie 4.0 nicht kaufen, man muss es sich erarbeiten."
Und das brauche seine Zeit. So warnt Jörg Bauer davor, übereilt umzurüsten: "Es kann irgendetwas schieflaufen und eine Produktion liegt plötzlich still. Deshalb bieten wir am wbk eine Testumgebung, in der die Möglichkeit besteht, Sachen auszuprobieren und mit dem entsprechenden Sachverstand zu begleiten."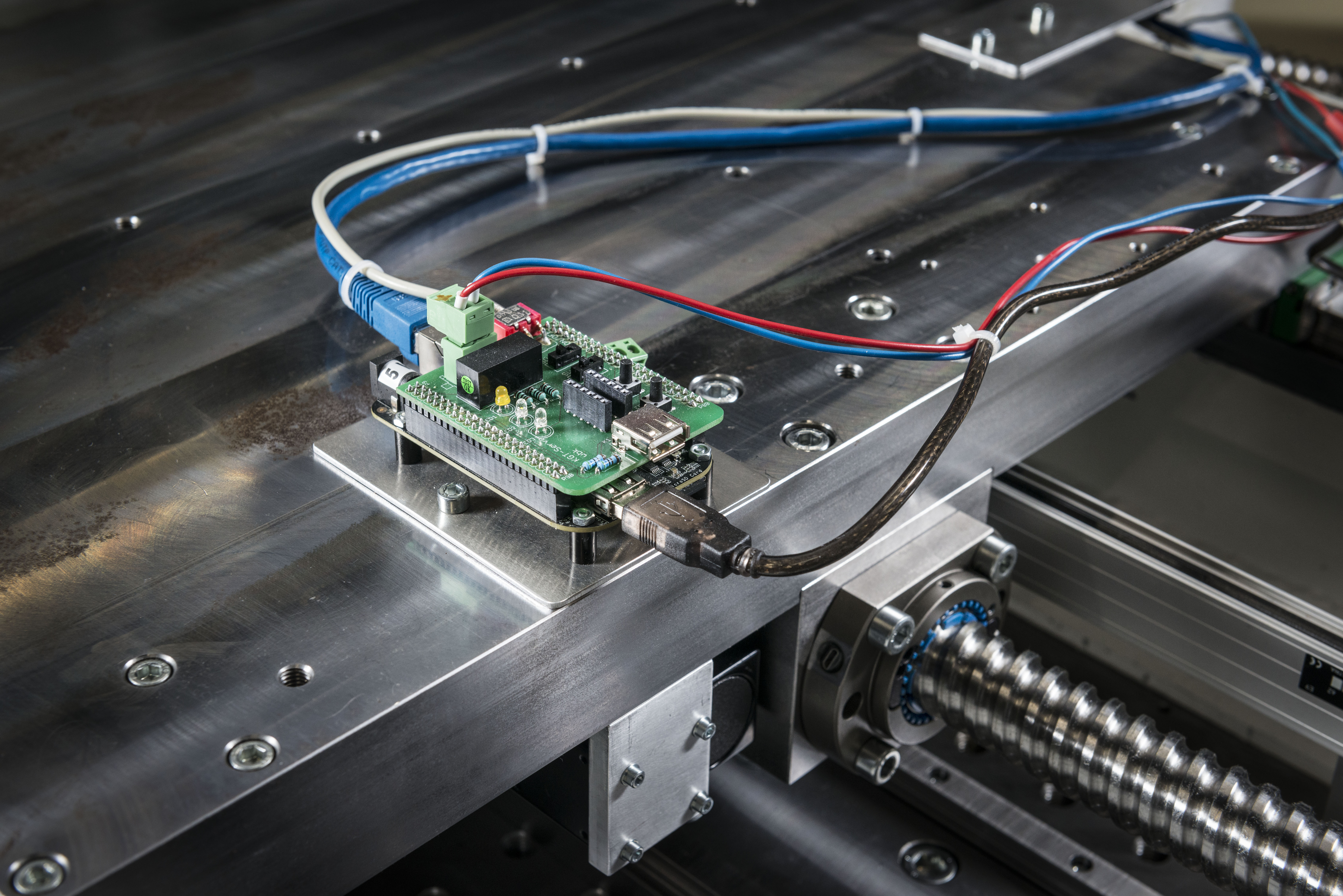 Langfristig sieht Jörg Bauer allerdings gewaltige Veränderungen in der Produktion der Unternehmen. "Industrie 4.0 ist meiner Meinung nach eine disruptive Technologie. Ich frage bei den Leitfaden-Workshops immer: Wer hatte vor zehn Jahren ein Smartphone? Dann wissen alle, vor welcher Veränderung wir stehen und das Thema ist geklärt." Auch Nicole Stricker zieht den Vergleich zu der rasanten Veränderung, die wir alle im privaten Konsum erleben: "Wer abends auf dem Sofa etwas bestellt, das unter Umständen am nächsten Tag im Briefkasten liegt, der erwartet auch an seinem Arbeitsplatz ein gewisses Tempo, wenn er etwas ordert. Der ist nicht mehr gewillt lange zu warten. Und das ist glaube ich eine Keimzelle, warum wir uns mit dem Thema Industrie 4.0 beschäftigen müssen."
Kontakt: nicole strickerLak9∂kit edu und joerg bauerZkd0∂kit edu
Excerpt in English
Industry 4.0 Guidelines for Small and Medium-sized Enterprises
Translation: Maike Schröder
Shelves that refill automatically. Machines that automatically adjust to individual orders within seconds. For many companies, the digital land of plenty is Industry 4.0. But the way there appears to be complicated and long. Where to start? How to implement it? Initial answers are provided by the Industry 4.0 guidelines developed by the VDMA (Verband Deutscher Maschinen- und Anlagenbau e. V., German Engineering Association) and KIT's Institute of Production Science. "We want to help companies familiarize with this topic and we provide concrete support," says senior engineer Nicole Stricker, who was involved in drafting the guidelines together with her colleague Dr. Jörg Bauer.
"We jointly identify potential changes in production and which product changes are desired." For this purpose, the guidelines contain an important toolkit. It distinguishes between products and production, with both areas being subjected to stepwise analysis. The product area, for instance, covers potential integration of sensors, functionalities for data storage and information exchange, product-related IT services, or new business models. The production area focuses on data processing, company-wide networking with production, efficiency in case of small batch sizes, or man-machine interfaces.
Particular attention is paid to data that already exist at the companies and are generated constantly. "In this way, we find points where it makes sense to establish a control loop with learning systems. Or suppliers of machines realize that they can offer additional services to their customers. This process is extremely important. You cannot buy Industry 4.0, you have to work for it," Jörg Bauer says.
Contacts: nicole strickerPvc4∂kit edu and joerg bauerSua2∂kit edu