The text was written in German, an excerpt is available in English at the end of the text.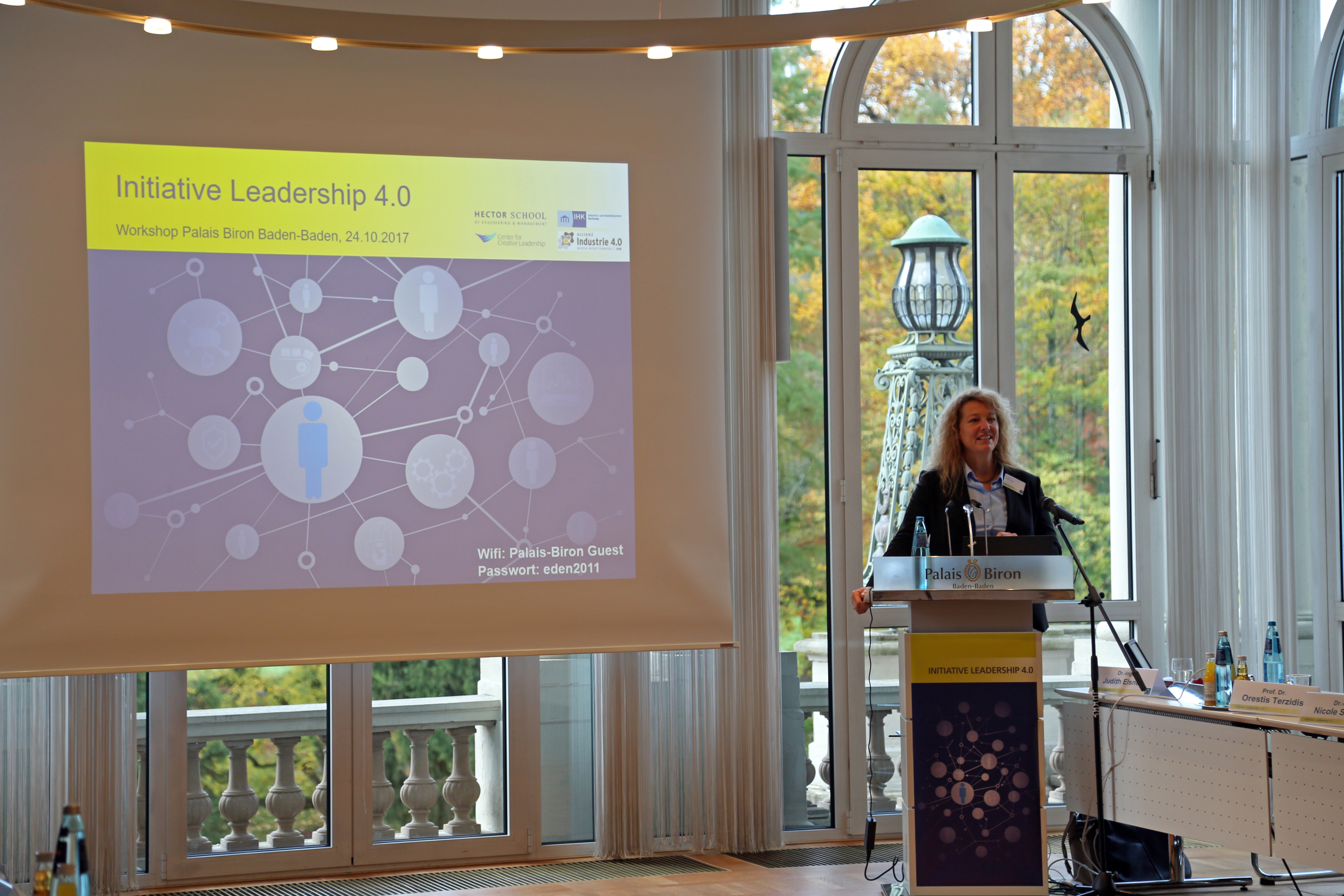 Die digitale Transformation stellt derzeit eine der größten Herausforderung für die baden-württembergische Industrie dar. Neue Technologien in der Automatisierung und Vernetzung von Produktionsprozessen führen zu einer drastischen Erhöhung der Komplexität von Prozessen und Entscheidungen. Aus diesem Grund trafen sich am Dienstag, den 24. Oktober 2017, Experten aus Industrie, Wirtschaft und Wissenschaft im Palais Biron in Baden-Baden um dieses Themenfeld vor den veränderten Anforderungen an zukünftige Führungskräfte zu diskutieren. Finanziell unterstützt wurde die Auftaktveranstaltung vom baden-württembergischen Wirtschaftsministeriums in Kooperation mit der Allianz Industrie 4.0. Gemeinschaftlich eingeladen hatten die IHK Karlsruhe, die HECTOR School of Engineering and Management des KIT und das Center for Creative Leadership.
Ziel der Veranstaltung war es, die Digitale Transformation in Baden-Württemberg aktiv mit zu gestalten. So war der ganze Tag auf den Austausch zwischen den Führungskräften der baden-württembergischen Spitzenunternehmen ausgerichtet. Verschiedene Branchen und Geschäftsfelder sorgten nicht nur für eine gute Durchmischung, sondern garantierten auch, dass alle Aspekte rund um die Digitale Transformation und die dadurch ausgelösten Veränderungen bezüglich Führung, Technologie und Organisationsmanagement interaktiv diskutiert wurden. Ein Impulsvortrag von Johann Soder, Geschäftsführer Technik bei SEW-Eurodrive GmbH & Co. KG präsentierte bereits mögliche Umsetzungen der Industrie 4.0 im baden-württembergischen Mittelstand.
Prof. Hans-Peter Mengele, Hauptgeschäftsführer der IHK Karlsruhe, zeigt sich zufrieden: "Das Ziel ist Karlsruhe als Leadership Hub aufzubauen. Die Besonderheit in dieser Kombination mit der Technology Business School des KIT ist, dass von der Technologieseite an das Thema Führung herangegangen wird." Dr. Judith Elsner, Geschäftsführerin der HECTOR School of Engineering and Management bestätigt: "Organisation, Management und Technologie können nicht mehr getrennt gedacht werden. Das führt zu veränderten Kompetenzen, die von den Führungskräften von morgen gefordert werden. Diesem Anspruch zu erfüllen und die Spitzenkräfte der Zukunft auf die neuen Anforderungen vorzubereiten, ist nur in enger Kooperation zwischen Wirtschaft und Wissenschaft möglich." Als Antwort auf die identifizierten Bedarfe für die zeitgemäße Weiterqualifizierung von Führungskräften wurden die Eckdaten für ein neuartiges Schulungskonzept entwickelt. Das Center for Creative Leadership bringt dabei internationale Erfahrungen u. a. aus dem Sillicon Valley mit in die Ausgestaltung des Schulungsangebotes ein. Ziel ist, die Digitalisierung im Baden-Württembergischen Land der Tüftler, das viele Weltmarktführer hervorgebracht hat, zu einem echten Wettbewerbsvorteil auszubauen.
Excerpt in English
Translation: Maryrose Kelkis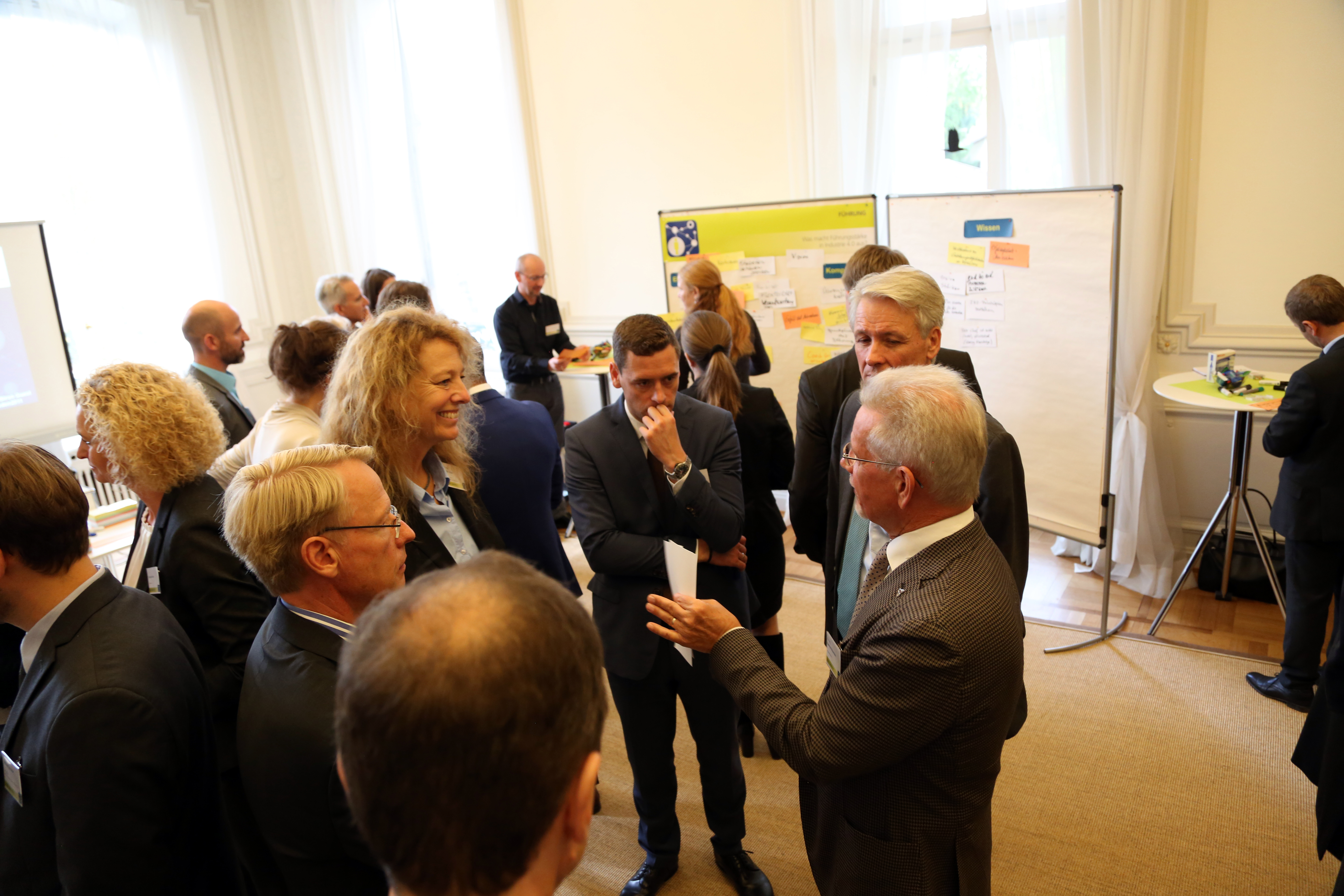 Digital transformation is currently one of the biggest challenges for the Baden-Württemberg industry. New technologies in the automation and networking of production processes lead to a increase in the complexity of processes and decisions. For this reason, experts from industry, business and science met on Tuesday, October 24, 2017 in the Palais Biron in Baden-Baden to discuss this topic of the changing demands on future executives. The kick-off event was financially supported by the Baden-Württemberg Ministry of Economic Affairs in cooperation with Allianz Industrie 4.0. The IHK Karlsruhe, the HECTOR School of Engineering and Management of KIT and the Center for Creative Leadership had jointly invited.
The aim of the event was to actively shape the digital transformation in Baden-Württemberg. Thus, the day focused on the exchange between the executives of the Baden-Württemberg top companies. Various industries and business units not only ensured cross-industry transfer, but also guaranteed that all aspects of digital transformation and the resulting changes in leadership, technology and organizational management were discussed interactively. A keynote speech by Johann Soder, Managing Director of Technology at SEW-Eurodrive GmbH & Co. KG, already presented possible implementations of Industry 4.0 in Baden-Württemberg's Mittelstand.