Interview with Daniel Keller
Daniel works at ENGIE Refrigeration GmbH as the Head of Product and Application Management
Which goals did you have when you started the Energy Engineering & Management master's degree - professionally and personally?
Due to my first degree in Engineering in the field of Energy Technology, my primary goal was to deepen my knowledge of Business Administration, to broaden my horizons and to develop professionally in the Technical Sales field. In addition, I was interested in learning about the latest developments in the field of Energy Technology in the Engineering module (my first degree was already 5 years prior to the time I started my master's degree) and to apply these in my position at that time as a Testing and Development Engineer, at Engie Refrigeration GmbH.
Did you achieve these goals? Did you also take away something that you had not expected?
The goals were definitely achieved, and today, looking back, I can even say that they were far exceeded! In addition to the instruction at the HECTOR School, an important aspect was the exchange with fellow students, which gave us insights into other companies, their structure and approaches, which provided important impulses and food for thought for necessary changes in our own professional environment.
Which professional challenges do you see yourself better equipped for now? Have you already achieved any concrete successes in your career as a result of your master's degree?
I was able to realize my goal of professional development in the Technical Sales field directly after completing my studies. This had already been agreed with my employer, ENGIE Refrigeration, in advance of my studies: The fact that I became Manger of the Sales Support team directly was not specifically agreed however, and one component of this unexpected professional success at that time was certainly the skills learned during the EEM Master's Program and the associated broadening of my horizons in terms of thinking and acting. The same applies to the fact that five years later, I was appointed Head of Product and Application Management and in this function have been a member of the management of ENGIE Refrigeration for a good year: This makes me proud and grateful in equal measure!

How did you find the support - both professionally by the lecturers and organizationally by the study supervisors?
It has been about 6 years since I studied at the HECTOR School, but I still have positive memories of the support provided. From a professional point of view, the program of studies is impressive in that lecturers from the renowned KIT as well as from the business world convey a good mix of theoretical and practical expertise. The admittedly intensive modules were broken up by the study supervisors, especially with social events in a relaxed atmosphere, and provided a welcome change.

How did you feel about the exchange with your fellow students?
Very positive! This is definitely one of the biggest advantages of the modular face-to-face events compared to a purely distance learning program. Especially in the Energy Engineering & Management Master's Program, we had a very homogeneous team, who complemented each other well in the study phases (note: a good mix of technical and business background). But also in the leisure activities, we did a lot together, especially during the module abroad at ESADE, which at that time only existed for the Energy Engineering & Management master's module in this way.

What do you see as the biggest challenges facing your company/your industry as a result of the renewable energy transition?
ENGIE Refrigeration, where I still work, is a manufacturer of chillers and heat pumps in the 50kW - 8MW range. The renewable energy transition means a "huge opportunity" for us as a company, as up to now our machines were mostly used as chillers and the waste heat generated in this way was only considered every now and then. With the renewable energy transition and the associated decarbonization, especially in the heating market, the use of waste heat from refrigeration machines or the use of heat pumps is an integral part of achieving the ambitious objectives of the renewable energy transition. The challenge we are facing here is to make the provision of cooling and heating as efficient and sustainable as possible with our chillers and heat pumps. We are on the right track, especially with our Quantum and thermeco2 models. Incidentally, the KIT is already using one of our Quantum Power chillers in its cooling system.

How did you feel about the module abroad at ESADE in Barcelona? What did you learn there?
I have very fond memories, which are of course also due to the beautiful city of Barcelona. What was special about the Master's in Energy Engineering & Management was the module abroad. Our fellow students in the other modules were very envious of that. We especially learned a lot in the intercultural exchange - also with lecturers from different countries.
Master in Energy Engineering and Management
The energy transition is associated with many challenges which require special skills and knowledge. Energy Engineering and Management covers all these aspects providing the skills to successfully face the evolving working environment.
Brighten Your Career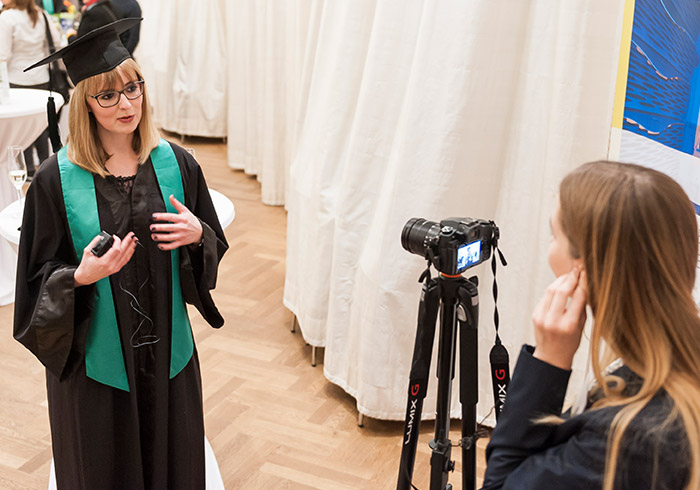 Alumni Voices
Read through interviews & voices of our HECTOR School alumni on why HECTOR School is unique, and how it fostered their careers.
Find out more