Industry Collaboration
Benefit from the best for the best
Driving innovation in companies – with knowledge and foundations from the latest technological accomplishments and research findings of one of the best universities in the world: the Karlsruhe Institute of Technology (KIT) – the Research University in the Helmholtz Association.
With the deeply networked collaborations of the HECTOR School and industry-oriented continuing education formats, you can strengthen your company's ability to stand up to the competition and make your company more attractive for employees.
Economically Advantageous Expertise
Industry Board and Partner
The industry board of the International Department gGmbh of the KIT as the legal roof of the HECTOR School forms an integral part in the strategy of the Technology Business School HECTOR School. Industrial partners have the opportunity to participate in the annual meeting of the International Department industry board where national and international further education formats are being introduced and discussed. As industrial partner there is a direct influence on the future strategical alignment of the International Department – and thus also HECTOR School. The annual industry board meeting further fosters a close crosslink and exchange in between the various industrial partners and KIT professors.
The pressure on today's companies is mounting:
Global competition is growing - quick reactions are necessary.

Success is only possible for those who develop and implement the right technological solutions

Complex processes must be simplified and accelerated.

Qualified and motivated employees are rare.

Companies need new forms of organization and new approaches.
HECTOR School maintains strategic alliances with companies worldwide. In order to foster their future competitiveness, we provide high-level lifelong learning solutions tailor-made for industry needs.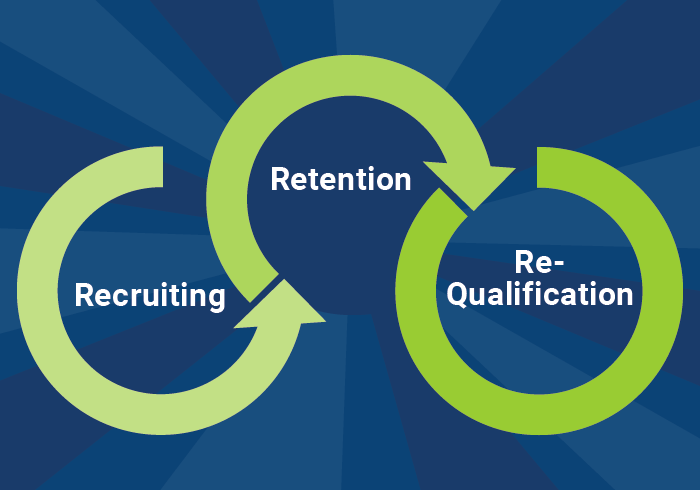 Recruiting, Retention, Re-Qualification
Our 3-R Strategy covers recuiting, retention, and re-qualification aspects. HR and Operating Departments appreciate it as a valuable instrument to achieve their goals in diversify employees and acquire additional qualification for their teams.
See how you can shape teams