International Module in the Part-Time M. Sc. Program Mobility Systems Engineering and Management
03/21: With effect from the 2021 intake, Mobility Systems Engineering and Management is set to participate in the "Corporate Innovation & Entrepreneurship" management module offered by the Escuela Superior de Administración y Dirección de Empresas (ESADE) in Barcelona. This module taught abroad makes the part-time Master's program even more attractive for future students, whose interdisciplinary exchange in international surroundings will also be promoted.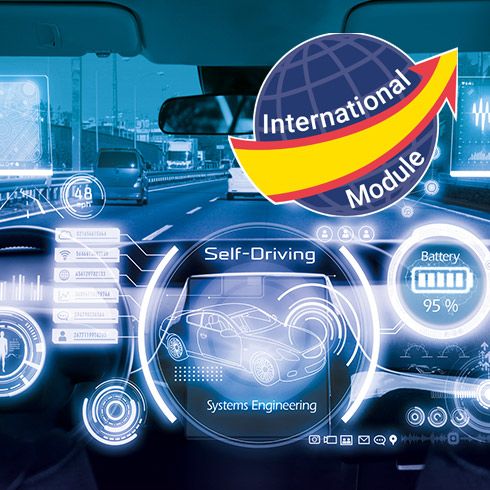 Global Automotive Industry
The automotive industry has an increasingly global approach. The worldwide pandemic has, therefore, hit the automotive industry particularly hard. Nevertheless, an upward trend is already emerging again, including the continued strong demand for automation, connectivity, and e-mobility. In this context, the International Organization of Motor Vehicle Manufacturers (OICA) published sales and registration figures for a number of countries for the first nine months of 2020, showing that the comparative 2019 figures had already been exceeded for the first time by September of the crisis year 2020 (https://www.oica.net/category/media-center/).
Digitalization with a System Approach
The approaches that are required in digitalization, future-proof technologies for connected driving and Advanced Driver Assistance Systems (ADAS), more accurate range prediction, and stronger electrified powertrains are taught in a holistic, systems-oriented approach in the advanced master's program Mobility Systems Engineering and Management. An intensive exchange with strong practical relevance unfold in small groups of working engineers, mechanical engineers, and computer scientists.
International and Interdisciplinary Exchange
The latest expertise in technology is taught just as much as the necessary management expertise required to lead projects and teams to success. As a novel part of the upcoming study year (starting on October 4, 2021), the management module "Corporate Innovation & Entrepreneurship" will be taking place at ESADE in Barcelona. Impulses gained in an international environment support integrating new products and services into traditional automotive companies or repositioning in a new market segment. In addition, cooperation with other disciplines whose contents overlap—such as batteries, fuel cells, and high power-makes for productive networking opportunities. Feedback from students studying the international module "Corporate Innovation & Entrepreneurship" at ESADE in Barcelona has been consistently positive, therefore, the Mobility Systems Engineering and Management program can certainly look forward to a greater internationalization of the program-starting this year. Applications are accepted on an ongoing basis, although it is recommended that international applicants apply by June due to the visa requirements. For more information, please refer to HECTOR School's website: www.hectorschool.kit.edu/master-mobility-systems-engineering-and-management.php.