Job interview
At the stage of the invitation to a job interview, you overcome a huge hurdle on the way to your desired job. Make sure to be well-prepared for this appointment in order to convince the person in the interview of your skills. In the following article you will get insights on what you can expect in a job interview and how you can prepare yourself for this event.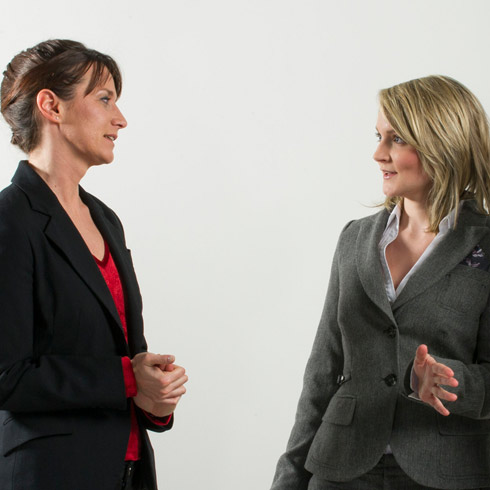 Usually, the interview consists of at least three persons: One person from the department of the company, one person from HR, and you as the candidate. Phone and virtual interviews are also common.
In a job interview, the employer wants to get to know you in person. This means, besides your professional qualifications (which can also be read in your CV), the company wants to know what kind of person you are and if you can integrate yourself into the existing team. Besides preparing yourself by doing research on the company and providing information regarding your know-how related to the job, also ask yourself how you want to present yourself in a professional but authentic manner. In particular, the company will test you regarding the following three aspects: Personality, performance motivation, and competence. Nevertheless, also think of aspects like company culture, dress code, work ethic etc. In order to avoid stress situations, arrange enough time for the job interview. Usually a duration of 30 to 60 minutes is sufficient. Try to prepare yourself 1 or 2 days before the interview (speaking of interviews NOT assessment centers!) for the main part but also keep in mind that an authentic impression of yourself is the most important aspect.
Why do you want to work for this company?
Why did you apply for this certain job position?
What are the most outstanding highlights of your CV (try to have 3 highlights in mind)?
What are your strengths and weaknesses?
Do you prefer working in groups or by yourself (also be a mix of both)?
Where do you see yourself in 5 years?
If the job includes leadership: What number of people could you imagine to lead?
What is your salary expectation for the job?
Try to keep the requirements of the job ad in your mind during the interview - your answers should (in most cases) fit to the required profile of the job. To demonstrate reflection and credibility also think of examples from your study, job, or private life when answering questions.
Towards the end of the interview, the company will ask you if you have any questions: Think of 2 or 3 questions you can raise. This shows interest regarding the company and good preparation in advance. At the very end: Do not forget to thank the other participants for their time and ask how they are planning to proceed (if they do not tell you in advance).
Find more information about job interviews (e.g. interview types, selection criteria & questions, dos and don'ts, procedure) in the job interview article of the KIT.